Cornmeal Pizza Crust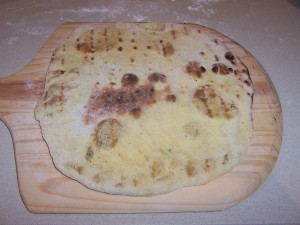 This is the basis for the Cornmeal Pizza below. A big thank you to Mara and Raven who gave me the original recipe for this crust.
Makes 2 to 4 servings.
1/2 cup warm water (below 110 degrees)
1 teaspoon active dry yeast (heaping)
1 cup unbleached white flour
1/2 cup yellow cornmeal (fine grain if available)
1/8 teaspoon salt
1/2 teaspoon sugar
1 tablespoon olive oil
Dissolve the yeast in warm water in a medium mixing bowl. Let it sit for 3 to 5 minutes while you start gathering and measuring the other ingredients.
Add half of the flour and half of the cornmeal to the warm water and yeast mixture. Mix thoroughly. Add the salt, sugar and olive oil and stir until mixed. Add the remaining flour and stir until all of the flour has been incorporated.
Flour the counter and your hands. Knead for 3 minutes working in more flour as needed to prevent sticking. Dough should be smooth and elastic.
Oil a second mixing bowl with a little olive oil all the way up the sides of the bowl to the top. Place the dough in the bowl turning once to coat with oil. Cover with a towel and set aside to rise for an hour until doubled in size.
Oil your hands and a spot on the counter. Remove the dough from the bowl and roll into a ball while squeezing all of the air out of the crust. Sit the ball of dough on the counter and let rest for 30 minutes.
Press the ball flat to squeeze out the excess air before rolling into pizza shape. See the Cornmeal Pizza recipe below for more details on making this crust into a pizza.
Variations:
For a very thin crust, divide the dough in half and make 2 balls of dough before you let it rest for 30 minutes.
Grilled Pizza Crust: Knead dough for 15 minutes – you'll want it a little tough to stand up to grilling without falling apart.
You can make a low-sodium version by reducing the salt, but the dough gets really hard to work with.
More information for Cornmeal Pizza Crust recipe:
Prep time:

120 min

Total time: 120 min
Pictured above: Grilled cornmeal pizza crust.
Cornmeal Pizza

It's gotten a little predictable with pizza every Sunday, but this is my favorite Sunday meal. It's a great way to end the week. Makes 2 servings.
1/2 recipe Cornmeal Pizza Crust (see above) for a super thin crust
1/4 cup chopped sun dried tomatoes (reconstituted in water)
1/4 cup sliced kalamata olives
1/4 cup grilled veggies (broccoli, zucchini, eggplant)
1/4 cup chopped peppadew peppers or hot peppers
1 clove sliced or minced garlic
2/3 cup tomato-based pizza sauce
1 1/2 cups grated Follow Your Heart, Vegan Gourmet Mozzarella cheese (about half a brick)
10 – 15 fresh basil leaves
Preheat the oven to 495 degrees (we also preheat our pizza stone at the same time).
For a crispy crust, cook the crust by itself for a couple of minutes without any sauce or toppings (2 minutes for a very thin crust on a hot pizza stone, longer for a thicker crust).
Top with sauce and veggies. Add cheese. Cook for 12 to 14 minutes at 495 degrees or until the cheese has melted.
Sprinkle with torn fresh basil after you've cooked the pizza, but before serving.
Variations
Grilled Pizza: Instead of cooking the crust for 2 minutes before adding the toppings, you can put the crust right on the grill for 1 to 2 minutes on each side. To get the crust on the grill, heavily flour a pizza peel, put the pizza on the peel, spray liberally with oil and flip in over onto the hot grill. After 1 to 2 minutes, use tongs to pull the crust back onto the peel, spray again with oil, flip and cook for another 1 to 2 minutes. Be careful not to overcook, especially for thin crust pizzas.
Pesto Pizza: Replace the tomato sauce with Pesto.
Experiment with all kinds of different vegetables (artichokes, cherry tomatoes, pine nuts, etc.)
Use a whole recipe of the Cornmeal Pizza Crust for a thicker crust.
For my non-vegan friends: this vegan cheese takes a long time to melt, so if you decide to use regular mozzarella, you'll want to reduce the cooking time drastically. Also, other vegan cheeses melt at different temperatures, so keep a close eye on the pizza the first time you make it.
More information for Cornmeal Pizza recipe:
Prep time:

15 min

Cook time: 20 min

Total time: 35 min