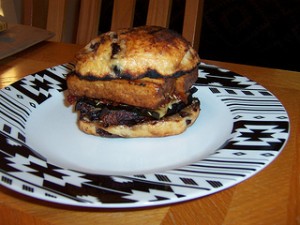 These can be made fresh for dinner as a variation on the
Grilled Vegetables and Tofu meal
, or you can make the sandwich the next day using leftover grilled vegetables and tofu. Be prepared for a huge sandwich that will barely fit in your mouth!
Makes 1 sandwich.
1 hearty sandwich sized ciabatta roll sliced in half (or any other thick, hearty bread)
1 slice grilled tofu (about the size of the roll or 2 small slices)
1 slice grilled eggplant
2 slices grilled zucchini
1 slice grilled bell pepper
3 – 4 sun-dried tomato slices (reconstituted)
4 – 5 whole basil leaves
olive oil for brushing the bread
salt and pepper to taste
Brush the cut side of the bread with olive oil and briefly grill or place it under the broiler for a couple of minutes to lightly toast the bread.
If you aren't making this with freshly grilled vegetables, heat the grilled tofu, eggplant, bell pepper and sun-dried tomato in the microwave or oven until warm.
Pile all of the ingredients in layers in between the roll for a huge Dagwood sandwich.
Buy the What Dawn Eats: Vegan food that isn't weird cookbook for more recipes like this one.
Variations
For a regular sandwich that can be consumed by mere mortals without unhinging your jaw to bite into it, limit the sandwich to tofu, 1 grilled vegetable, sun-dried tomato and basil.
Experiment with any variety of grilled vegetables or tempeh instead of tofu.
If your grilled vegetables seem a little dry, you might want to brush the bread with a little extra olive oil and balsamic vinegar.
Make a low-sodium or gluten-free version by choosing an appropriate type of bread.
More information for Grilled Vegetable and Tofu Dagwood recipe (reduce total time to 5 minutes if using leftover grilled vegetables):
Prep time:

30 min

Cook time: 15 min

Total time: 45 min