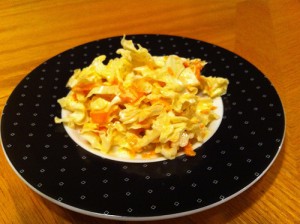 This is the slightly healthier vegan version of the coleslaw that you remember from the picnics and parties of your youth.
Makes 6 to 8 servings
.
Slaw Ingredients
1/2 head of shredded cabbage
1/2 cup shredded carrot
Sauce Ingredients
1/2 teaspoon celery salt
1 teaspoon dried minced onions
1/2 cup vegan mayo
1/4 cup non-dairy milk
1 tablespoon apple cider vinegar
1 tablespoon agave nectar
2 teaspoons dijon or spicy mustard
1 clove minced garlic
freshly ground pepper to taste
Combine all of the sauce ingredients in a small mixing bowl. Stir briskly or whisk until the sauce is smooth and creamy. Add more or less vegan mayo to taste.
Shred the cabbage and carrot and place in a large mixing bowl. Stir in the sauce and toss together to combine. Refrigerate for a couple of hours before serving.
Buy the What Dawn Eats: Vegan food that isn't weird cookbook for more recipes like this one.
Variations
Use a mix of green and purple cabbage for a little color.
Add a few other vegetables for more variety.
Omit the mustard and replace the celery salt with ground celery seed for a low-sodium version.
Can be easily made gluten-free.
More information for Traditional Vegan Coleslaw recipe:
Prep time:

15 min

Cook time: 0 min

Total time: 15 min