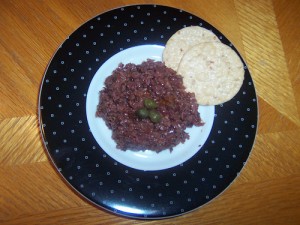 This is always a big hit at parties. It seems a little exotic and unusual to most people, but it's so easy to make! Serve with a really good, fresh Italian or French bread. Ciabatta or baguettes are great choices, since these smaller loaves hold together better for spreads.
Makes 8 to 10 servings
1 clove minced garlic
1/4 teaspoon balsamic vinegar
4-5 slices sun-dried tomato (reconstituted in water to soften)
1/2 teaspoon capers
freshly ground black pepper (to taste)
1 1/2 cups pitted kalamata olives
1 tablespoon olive oil
Combine garlic, balsamic vinegar, sun-dried tomato, pepper, and capers in a food processor. Blend until combined. Add olives and process until the olives are in small chunks (do not over process!)
Transfer tapenade from food processor into a bowl, add olive oil, stir and refrigerate for at least 1 hour before serving.
Buy the What Dawn Eats: Vegan food that isn't weird cookbook for more recipes like this one.
Variations
Add a tablespoon or two of tomato paste for an olive tomato tapenade.
Use a mixture of different varieties of olives.
Serve with rice crackers for a gluten-free version.
More information for Olive Tapenade recipe:
Prep time:

10 min

Cook time: 0 min

Total time: 10 min