Mexican Marinade
Warning! This Mexican marinade is spicy, but it has a delicious chipotle, lime and cilantro flavor. See the Mexican Marinated tofu recipe below for details about using the marinade.
2 tablespoons apple cider vinegar
juice of 1 lime
juice of 1 orange
1/4 cup fresh chopped cilantro
3 cloves minced garlic
1 teaspoon dried minced onions
1 teaspoon cumin
3 chopped chipotle chili peppers in adobo sauce
1 teaspoon adobo sauce
Combine all ingredients and stir or whisk to combine.
Variations
Dial back on the chipotle peppers if you want something a little less spicy.
You could also substitute your favorite spicy chipotle hot sauce to taste in place of the chili peppers and adobo.
Use this marinade to brush on vegetables before you grill them for a Mexican grilled vegetable meal.
Can easily be made gluten-free and low-sodium.
More information for Mexican Marinade recipe:
Prep time:

15 min

Total time: 15 min
Baked Mexican Marinated Tofu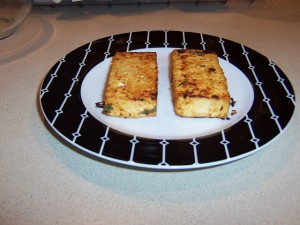 I use this tofu in tacos, burritos, nacho salads or any other Mexican meal. The Enchilada Casserole is one of my recipes that uses this Baked Mexican Marinated Tofu.
Makes 2 to 4 servings.
1 14 ounce package of firm or extra firm tofu
1 batch Mexican Marinade recipe (see above)
vegetable oil
Slice the tofu into 4 or 5 even pieces. Press the tofu to reduce excess moisture by placing a towel on the counter and wrapping the tofu in the towel*. Place a cutting board on top of the tofu and place something heavy on top (cast iron skillet, a couple of cans of tomatoes, etc.) Let sit for 5 minutes. Rearrange the tofu to a dry part of the towel or on a new towel, and press again for about 5 minutes.
Place the tofu in a plastic zipper bag or shallow container. Pour the Mexican Marinade over the tofu and make sure all of the tofu is covered. Marinade for 1 to 3 hours turning the tofu a few times to make sure that all sides are evenly marinated.
Preheat the oven to 450 degrees. Spray or brush a little oil on a cookie sheet. Place the tofu on the oiled cookie sheet. Bake for 20 minutes turning once after the first 10 minutes.
Variations
Experiment with other marinades.
If you like your tofu less soft in the middle, bake it at 350 degrees for about 30 minutes, again turning them over at the halfway mark.
This is also excellent when cooked on the grill.
Pan Fried Tofu: spray or brush a large, heavy skillet with a small amount of oil. Over medium heat, add the tofu and cook for 5 to 10 minutes on each side.
Can be easily made low-sodium and gluten-free.
More information for Baked Mexican Marinated Tofu recipe:
Prep time:

10 min

Cook time: 20 min

Total time: 30 min
* Note: If you have fuzzy kitchen towels, you'll probably want to wrap it in a paper towel first to avoid getting fuzzy lint on your tofu.