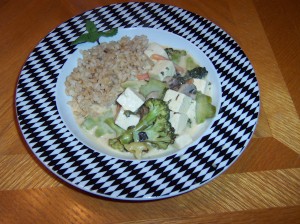 We can thank my Aunt Treva for this delicious curry recipe and for turning me on to cooking Thai food.
Makes 4 servings
.
4 cups cooked brown rice
1 14-ounce can coconut milk
1 tablespoon palm sugar (or brown sugar)
1 to 2 tablespoons Thai yellow curry paste
1/4 cup chopped mint
1/2 lime
2 cups broccoli florets
1/2 cup sliced carrots
1 tablespoon vegetable oil
1 12-ounce package firm or extra firm tofu
2 to 3 kaffir lime leaves chopped (optional)
Stir-fry the broccoli and carrots in oil for 3 to 4 minutes, but make sure they stay firm, since they will continue to cook in the sauce later. Set aside.
Combine coconut milk, sugar, yellow curry paste and lime leaves in a wok or large skillet over medium heat. Cook for 5 minutes or until the coconut milk begins to thicken.
Add chopped mint, juice of 1/2 lime, broccoli, carrots and tofu. Cook at a low simmer for 5 to 10 minutes to let the flavors blend together.
Serve with brown rice and additional lime wedges.
Buy the What Dawn Eats: Vegan food that isn't weird cookbook for more recipes like this one.
Variations
Add 1/2 cup chopped pineapple when you add the tofu. If you use pineapple, you might want to reduce or eliminate the sugar.
Experiment with other vegetables.
Pre-bake the tofu if you want it to be a little more firm.
Can easily be made gluten-free.
More information for Yellow Curried Tofu recipe:
Prep time:

20 min

Cook time: 20 min

Total time: 40 min