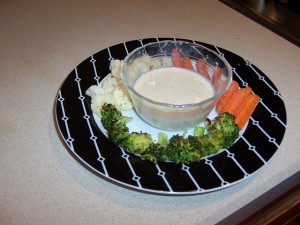 This is one of my favorite ways to use a few handfuls of veggies languishing and almost forgotten in the produce drawer of the refrigerator. This can even be a quick meal if you buy one of those pre-cut bags of broccoli and cauliflower and use baby carrots.
Makes 2 to 4 servings.
4 cups chopped broccoli, cauliflower, and carrots (combined)
2 teaspoons olive oil
salt, pepper, and freshly ground coriander seed to taste.
1 recipe Tahini Sauce
Place oven rack in top position. Preheat oven to 450.
Toss veggies with 2 teaspoons olive oil and place on large cookie sheet. Sprinkle with salt, pepper, and ground coriander. Bake on top rack for 15 minutes for crisp vegetables.
Serve topped with tahini sauce.
Variations
Main Meal: Serve over your favorite whole grain for a main meal version.
Great with any other vegetables or add a little onion and garlic for variety.
The tahini sauce is particularly good with cauliflower, especially if you turn it after 15 minutes and cook for an extra 10 minutes until it starts to brown.
Omit the salt and use a reduced sodium tahini sauce for a low-sodium version.
Can be easily made gluten-free.
More information for Baked Veggies with Tahini Sauce recipe:
Prep time:

15 min

Cook time: 15 min

Total time: 30 min