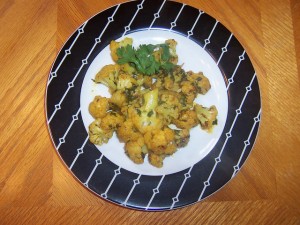 This is a lighter, less saucy, baked version of something similar to Aloo Gobi, but without the potatoes. I think it's a nice compliment to the Chana Masala and Creamy Red Lentil Dal when served together in a big Indian meal with rice or naan.
Makes 4 servings.
1 medium head cauliflower
3 cloves minced garlic
2 tablespoons vegetable oil
1 teaspoon freshly ground coriander
1 tablespoon freshly ground ginger
1/2 teaspoon turmeric
1/2 teaspoon paprika
1/2 teaspoon garam masala
1/4 cup freshly chopped cilantro
red pepper flakes to taste
salt and freshly ground pepper to taste
Preheat oven to 400 degrees.
Cut the cauliflower into medium sized florets and place in a large mixing bowl.
In a small bowl or measuring cup, whisk together olive oil and all of the spices except for the cilantro. Drizzle the oil and spice mixture over the cauliflower. Add the cilantro and stir to combine. Add a little more oil if it seems too dry for your taste.
Transfer spiced cauliflower mixture to a glass baking dish. Cook covered for about 30 minutes or until the cauliflower is tender. Stir once or twice during baking.
Variations
For the saucy version, add some chopped or pureed tomatoes.
Substitute potatoes for some of the cauliflower. You might need to cut the potatoes into smaller chunks or plan to cook it a little longer with the potatoes.
Can be easily made low-sodium and gluten-free.
More information for Indian Spiced Cauliflower recipe:
Prep time:

20 min

Cook time: 30 min

Total time: 50 min