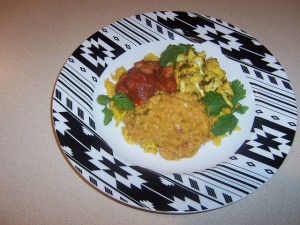 This is a creamy variation of a more traditional red lentil dal that is great comfort food on a cold evening.
Makes 4 to 6 servings
.
4 cups cooked brown basmati rice
1 cup red lentils
2 cups water or vegetable broth
1 can coconut milk
1 can fire roasted diced tomatoes
1 tablespoon oil
1 cup chopped onion
3 cloves minced garlic
1/4 cup chopped fresh cilantro
1 tablespoon grated fresh ginger
2 teaspoon freshly ground coriander
2 teaspoon cumin
1 teaspoon turmeric
1 teaspoon cardamom
freshly ground pepper and salt to taste
cayenne pepper or chopped hot peppers to taste
Pick through the lentils to make sure that there aren't any lentil shaped stones that crept in during harvesting. Rinse the lentils in cold water and set aside in a strainer.
Heat the oil over medium heat and add the onions. Sauté for 5 minutes or until the onions are translucent to golden and soft. Add garlic, ginger, coriander and cumin. Sauté for about a minute. Add the tomatoes and cook for about 5 minutes.
Add the lentils and remaining ingredients, cover and cook, stirring occasionally, for 30 to 40 minutes or until the lentils are tender.
Serve over rice.
Pictured: Red Lentil Dal (center) with Chana Masala (upper left) and Indian Spiced Cauliflower (upper right)
Variations
Serve with naan instead of (or in addition to) the rice.
You can use an immersion blender to make this even creamier.
Can be easily made low-sodium and gluten-free.
More information for Creamy Red Lentil Dal recipe:
Prep time:

10 min

Cook time: 50 min

Total time: 60 min