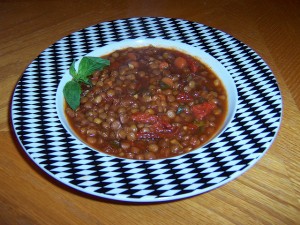 This is one of my favorite soups. It's delicious, quick and easy to make, which is the ideal combination for my busy life. The real secret to this recipe is the sun-dried tomatoes, but you really can't go wrong with anything based on tomatoes and basil, and as an added bonus, the lentils make it a hearty soup.
Makes 4 to 6 servings.
1 cup lentils (rinsed)
2 cups vegetable broth
3 cups water
1 peeled and chopped carrot
1/2 cup reconstituted, chopped sun-dried tomatoes.
1 6-ounce can tomato paste
1 tablespoon olive oil
3 cloves minced garlic
1/2 chopped medium onion
1/4 cup freshly chopped basil
freshly ground black pepper to taste
Heat oil over medium heat. Add onions and sauté for 2 to 3 minutes.
Add all other ingredients and bring to boil.
Reduce heat to low and simmer for 35 to 40 minutes or until the lentils are tender.
Buy the What Dawn Eats: Vegan food that isn't weird cookbook for more recipes like this one.
Variations
Add 1/2 cup rice and an additional 1 cup water.
Experiment with additional spices. Oregano and thyme would make good choices.
Make a spicy soup by adding some crushed red pepper or chopped chili peppers.
Add a few mushrooms, broccoli or other vegetables.
Naturally gluten-free and can be easily made low-sodium by substituting water from reconstituting the sun-dried tomatoes in place of the vegetable broth.
More information for Lentil Soup with Tomato and Basil recipe:
Prep time:

10 min

Cook time: 40 min

Total time: 50 min