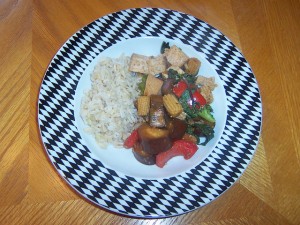 A delicious way to use an Asian eggplant, and it's a nice change from the various Thai curries that we usually make for dinner.
Makes 4 servings
.
Sauce Ingredients
1/4 cup tamari or soy sauce
1-2 tablespoons agave nectar
1-2 teaspoons Thai red curry paste
Other Ingredients
4 cups cooked brown rice
1 tablespoon oil
4 Kaffir lime leaves – thinly sliced into threads
3 cloves garlic
1 shallot
1 large or 2 small sliced Asian eggplants (long and thin)
1 recipe Baked Soy Marinated Tofu
1 sliced red bell pepper
1 cup broccoli florets
1 cup baby corn
10 sprigs of Thai basil with stems on (tear any very large sprigs in a couple pieces)
Combine sauce ingredients and set aside.
Heat oil in a wok or large pan over medium heat. Sauté shallots for 2 to 4 minutes or until they turn translucent.
Increase heat to high and add veggies, garlic and kaffir lime leaves. Stir-fry veggies for 1 to 2 minutes.
Add basil, tofu and sauce. Stir-fry another 2 to 4 minutes until done.
Serve with cooked brown rice.
Variations
If you can't find Thai Basil, use 10 sprigs of regular basil, but remove the stems and use the whole leaves.
Experiment with some other vegetables, like cauliflower and zucchini.
Can be easily made gluten-free.
More information for Pad Phet – Thai Eggplant recipe:
Prep time:

15 min

Cook time: 30 min

Total time: 45 min