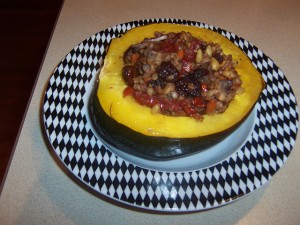 Served in half a squash, this makes a really nice main dish or side for any fall holiday dinner. While it has quite a few ingredients, most of them are fairly common so this dish comes together more quickly than you might expect.
Makes 2 servings
.
1 large acorn squash*
2 tablespoons olive oil
1 small chopped onion
1 clove minced garlic
1 stalk chopped celery
1 medium chopped carrot
1/2 cup sliced mushrooms
2 tablespoons port or red wine (preferably out of the glass you're drinking while making dinner)
1 cup cooked barley
1/2 cup raisins or other dried fruit
1/4 cup sun dried tomatoes (reconstituted in water and retain the water)
1/4 cup pine nuts
1/2 cup chopped walnuts
1 teaspoon rubbed sage
1/2 teaspoon red pepper flakes
salt and freshly ground pepper to taste
Preheat the oven to 350 degrees.
Cut squash in half, remove seeds, and bake cut side down for 30 minutes.
While the squash is cooking, sauté the onions in oil for about 5 minutes or until they start to turn translucent. Add celery and carrot and sauté until they are tender, but still firm. Add mushrooms, and continue cooking until they are soft and start to release their juice. Add garlic and stir to combine. Add port or wine and simmer for about a minute.
Add barley, raisins, pine nuts, sun dried tomatoes and walnuts. Stir to combine. Add sage, red pepper flakes, salt and pepper. If it gets too dry, add some water from the sun dried tomatoes and add a drizzle of olive oil.
Continue to cook over low until everything is combined and hot. You can remove from the heat and cover to keep warm if it starts getting too done or drying out before the squash is ready.
After the squash has finished cooking cut side down for 30 minutes, flip them over to fill with stuffing. Add stuffing to interior of squash, mounding as needed, and bake covered another 20 to 30 minutes. For a crunchier top, remove cover for the last 10 minutes.
Variations
Try this with quinoa, brown rice or other grains in place of or in combination with the barley for something a little different.
Experiment with different dried fruit to replace the raisins – dried cherries or cranberries are good.
If you are using a small acorn squash, you can probably cut the recipe in half. You could also reduce the stuffing recipe and not heap them as full.
Easily made low-sodium.
Replace the barley with quinoa or rice for a gluten-free version.
More information for Barley Stuffed Acorn Squash recipe:
Prep time:

15 min

Cook time: 60 min

Total time: 75 min
* Note: This recipe is for a large acorn squash. If you are using a smaller squash, you'll want to reduce the amount of filling made. If you end up with extra filling, it makes a great side dish or snack for later in the week or to eat while you are waiting for the squash to come out of the oven.