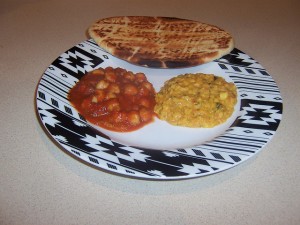 A relatively simple Indian dish for when you don't have a lot of time to spend making dinner.
Makes 4 to 6 servings
.
4 cups cooked brown basmati rice
2 15 ounce cans of rinsed and drained chickpeas (garbanzo beans)
1 28 ounce can tomato puree
1 cup vegetable broth or water
1 tablespoon vegetable oil
1 cup chopped onion
3 cloves minced garlic
1/8 teaspoon turmeric
1 1/2 teaspoon garam masala
2 teaspoons freshly grated ginger
1/2 teaspoon cumin
1/8 teaspoon cinnamon
1/8 teaspoon cloves
1/4 cup freshly chopped cilantro
1 tablespoon freshly squeezed lemon juice
1 tablespoon vegan margarine
salt and cayenne pepper to taste
Sauté onions for 3 to 5 minutes or until translucent over medium heat. Add garlic and spices. Stir and cook 30 seconds stirring constantly.
Add tomato puree, vegetable broth, chickpeas, lemon juice, and margarine. Mix well. Cover and cook for at least 15 minutes stirring occasionally. You can also cook it a little longer to get better blending of flavors.
Serve over rice.
Pictured: Chana Masala (left) and Creamy Red Lentil Dal (right) with naan.
Variations
Use fresh tomatoes, instead of tomato puree (you'll need to increase the cooking time to thicken).
Serve with naan, instead of (or in addition to) the rice.
Experiment with adding a few additional vegetables.
Can be easily made gluten-free and low-sodium
More information for Chana Masala recipe:
Prep time:

15 min

Cook time: 20 min

Total time: 35 min