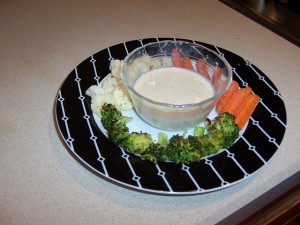 This is great on just about any type of vegetable, but it is absolutely awesome with baked cauliflower.
Makes 4 servings
.
2 teaspoons olive oil
3 cloves minced garlic
1/4 cup tahini (more or less to taste)
1/4 cup water
1 freshly squeezed lemon
1 teaspoon freshly ground coriander
freshly ground pepper and salt to taste
chopped parsley (optional)
In a cold saucepan, add all ingredients, except the parsley, and whisk together. Over low heat, gently warm the sauce to just above room temperature, and be careful not to simmer or boil. Tahini stays creamier and maintains a much better consistency at lower temperatures. Add additional water as needed if it seems a little too thick.
Top with parsley and serve with Baked Veggies or Grilled Vegetables and Tofu.
Variations
Omit the salt and use a reduced sodium tahini sauce for a low-sodium version.
Naturally gluten-free.
More information for Tahini Sauce recipe:
Prep time:

5 min

Cook time: 5 min

Total time: 10 min