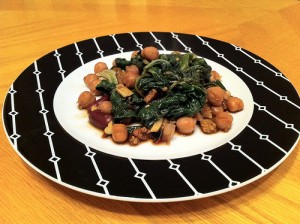 Fresh greens are so healthy and full of vitamins, so this is one of the dishes I make when I have been busy and not eating as well as I should. It makes a great dinner on it's own or as a side dish.
Makes 2 to 4 servings
.
4 cups chopped kale, chard or collard greens
1 15-ounce can white beans (great northern or others)
1 tablespoon olive oil
2 cloves minced garlic
1 small diced shallot
1 teaspoon tamari
2 teaspoons balsamic vinegar
1/2 teaspoon chili paste
3 strips tempeh bacon
freshly ground pepper to taste
Drain and rinse the can of white beans and set aside.
Heat olive oil over medium heat and add shallots. Sauté for 3 minutes until the shallots have softened. Add tempeh and sauté for another 3 to 5 minutes until the tempeh begins to brown. Add garlic, greens and beans. Add remaining ingredients and cook for 2 to 4 minutes or until the greens are wilted, but still firm.
Pictured with mixed salad beans, instead of white beans.
Buy the What Dawn Eats: Vegan food that isn't weird cookbook for more recipes like this one.
Variations
Main Meal: Serve as-is or over a bed of your favorite grain.
Experiment with a variety of mixtures of different types of greens and different spices. This is great with rosemary or basil, for example.
You can make a very simple version of this with just a little balsamic vinegar and some spices.
Instead of the vinegar, serve with lemon wedges or add lemon juice for added flavor.
For a low-sodium version, eliminate the tamari and tempeh bacon and use a low-sodium can of beans.
This can easily be made gluten-free.
More information for Beans and Greens recipe:
Prep time:

10 min

Cook time: 10 min

Total time: 20 min