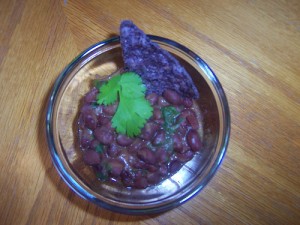 How can you go wrong with cilantro and lime? These beans are great served alone, in tacos, with some tortilla chips for dipping, or along with some fajitas.
Makes 4 as a servings as a small side dish.
2 cans black beans
1-2 tablespoons oil to taste
juice of 1 lime
2 cloves minced garlic
2 tablespoons tomato juice
1/4 cup chopped cilantro
salt and freshly ground pepper to taste
Drain and rinse the black beans. Combine all ingredients in a medium saucepan over medium-low heat. Cook for at least 5 minutes stirring occasionally or until heated through.
At this point, you can serve the beans, but I like to cook them over low heat for closer to 30 minutes or until the beans start to fall apart and become the consistency of refried beans.
Buy the What Dawn Eats: Vegan food that isn't weird cookbook for more recipes like this one.
More information for Cilantro Lime Black Beans recipe:
Prep time:

5 min

Cook time: 5 min

Total time: 10 min
Variations
Add some tomato or onion.
Can be easily made low-sodium and gluten-free.