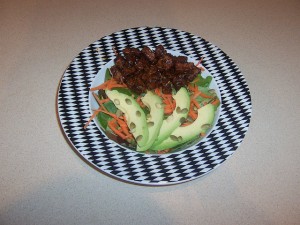 This is my standard summer salad when I want a light, quick lunch with vegetables and some protein. I usually make a batch of
Italian Marinated Tempeh
in advance and then have it available for a few salads throughout the week.
Makes 2 to 4 servings
.
4 cups of lettuce or spinach
1/2 cup shredded carrots
1 sliced tomato or cherry tomatoes
1/2 sliced avocado
1/4 cup pumpkin seeds
1 cup Italian Marinated Tempeh
Annie's Naturals Goddess Dressing to taste.
Toss the lettuce, carrots, tomato, pumpkin seeds and tempeh together. Top with sliced avocado and serve with Goddess Dressing.
Variations
Use packaged tempeh bacon if you don't want to make marinated tempeh.
Avocado and tomatoes are great in the summer, but during the winter, you'll want to experiment with other vegetables.
Top with balsamic vinegar and olive oil or another favorite salad dressing, instead of Goddess Dressing.
For a low-sodium version, use the low-sodium variation of the Italian Marinade and serve with olive oil and balsamic vinegar to replace the Goddess Dressing.
Can be easily made gluten-free by choosing an appropriate salad dressing and brand of tempeh.
More information for Tempeh Salad recipe:
Prep time: 5 min

Total time: 5 min