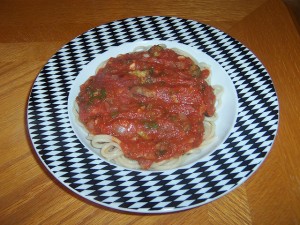 This is great served with garlic bread or bruchetta.
Makes 4 to 6 servings
.
1 pound pasta (cooked according to package directions)
2 tablespoons olive oil
1 chopped onion
4 cloves minced garlic
1/4 cup freshly chopped basil
2 teaspoons oregano
1 teaspoon thyme
2 cups chopped vegetables (broccoli, mushrooms, bell pepper, zucchini)
1 28 ounce can crushed tomatoes
Heat oil over medium heat. Add onions and sauté for 3 to 5 minutes.
Add vegetables. Sauté for 3 to 5 minutes or until tender. Add a small amount of water of vegetable broth if they get too dry.
Add crushed tomatoes and simmer for 20 minutes. Serve over pasta.
Variations
Experiment with different combinations of vegetables.
Used grilled vegetables and skip the step where you sauté the vegetables.
A can of fire roasted crushed tomatoes instead of regular crushed tomatoes is a great substitution.
Throw in a handful of sundried tomatoes.
Use fresh roma tomatoes or a can of low salt tomatoes for the low-sodium version.
Serve over gluten-free pasta or another grain for a gluten-free meal.
More information for Pasta Marinara recipe:
Prep time:

20 min

Cook time: 30 min

Total time: 50 min